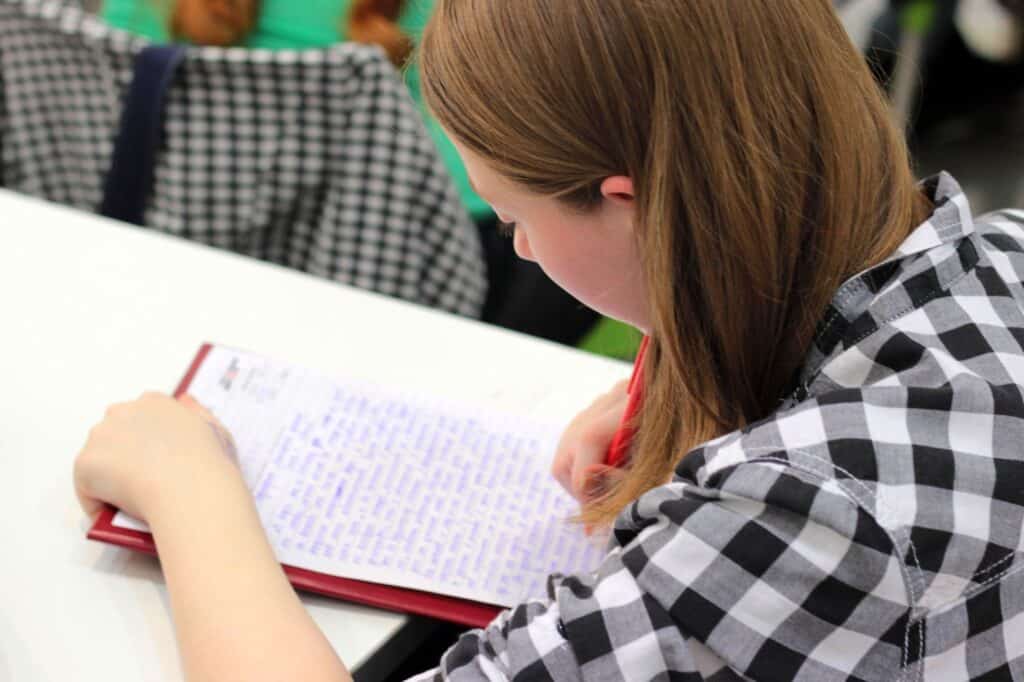 "I don't know which level of HSC English is right for me!"
"I'm worried it's going to be too much work."
Are thoughts like these crossing your mind while you decide what level of HSC English to take? We've go some advice to share with you about what level is best for you and some common misunderstandings when deciding.
Read on to find out how to make the best choice!
What are my options?
HSC English is a compulsory subject in NSW so students must decide which level they will complete.
The different levels of HSC English:
HSC English Studies
This level of HSC English is simpler than the others, with only one Exam Paper, but comes with a much lower scaled mark and will be the only Category B subject you will be allowed to take. It has an optional external exam, which you will need to complete if you wish to have an ATAR. In other words, if you do not take the optional external exam, you will not be eligible to receive an ATAR. 
It is the only English level which is a Category B subject. You are only allowed to have 2 units of a category B subject in your 10 units of subjects for the HSC.
HSC English Standard
This level of HSC English is a two-unit course, as of the new 2019 syllabus, it shares a common module called Texts and Human Experiences during the HSC with the English Studies and Advanced courses. In addition, both Advanced and Standard units have Module C: The Craft of Writing in Year 12, but they have different sets of prescribed texts, which can be viewed here.
In addition to this, HSC English Standard students will take Module A: Language, Identity and Culture, and Module B: Close Study of Literature, which emphasise particular aspects of shaping meaning and demonstration of the effectiveness of texts for different audiences and purposes.
HSC English Advanced
This level of HSC English is also a two-unit course and alongside the common module for the HSC, it has three additional modules which emphasise particular aspects of shaping meaning and representation, questions of textual integrity, ways in which texts are valued and the demonstration of the effectiveness of texts for different audiences and purposes.
As with English Standard, students in the Advanced course will take the Common Module: Texts and Human Experiences, Module A: Textual Conversations, Module B: Critical Study of Literature and the common Module C: The Craft of Writing. 
HSC English Extension 1
This level of HSC English is undertaken in both Year 11 and 12, you need to be doing Advanced English in order to also do Extension 1.
This level is an extra unit to English Advanced, so if you do both Advanced and Extension you are doing 3 units of English. In Year 12 students are required to study in this subject at least three prescribed texts for the elective study and at least two related texts.
HSC English Extension 2
This level of HSC English is only completed in Year 12, it involves a major work, a journal of progress and a reflection statement.
English Advanced and English Extension 1 are prerequisites for this level. So if you choose Extension 2, you are doing four units of English which include Advanced and Extension 1.
A common misunderstanding about HSC English:
Students often think there is an "easy" option. There is no easy option. The texts in Standard are complex and will require rigorous study in order to be analysed well. To get a high mark, all levels of English require time and effort, as they include regular homework, independent research, & assessments.
What do I need to know?
There are some things you may not be aware of in regards to studying English for the HSC. Check you know all the course requirements and expectations of each level of English.
Some things to note before deciding:
Standard, Advanced & Extension 1 English involve completing external HSC exams at the end of the course. English Studies also has an external HSC exam, which needs to be completed if you wish to get an ATAR.

If you elect to receive an ATAR to get into university, in addition to your HSC, then your HSC English result will automatically be counted regardless of your mark.

All levels of HSC English require the assessments of reading, writing, speaking, listening, viewing and representing.

Some tertiary institutions and courses have prerequisites. For example, a university course may require a band 5 in English Standard or Advanced as a minimum.

Some tertiary institutions and courses offer bonus points for the different levels of English.
For example at The University of Technology:
What should I think about while deciding?
Life After High School:
Think about what you want to do in the future.
There's a high level of expectation to have good communication skills both written and verbal, not only at tertiary institutions but also in the workplace. English gives you the opportunity to work on these skills and provides you with knowledge that will benefit you throughout your life.
Also, certain universities and courses may require you to have completed a specific level of HSC English as a pre-requisite, so always check this. It is also worthwhile to research your course to see the kind of work you will be doing. It is likely this work will be related to writing, so it is best to choose the highest level of HSC English that you can.
The higher level of HSC English you do, the more you can improve your communication skills and leave high school confident by having great foundations.
Workload:
Are you taking on too much or too little?
Everyone has different limitations and capacities — while it is fantastic to expand your capacity, overwhelming yourself can become a real place. Think about the workload of the other subjects you are taking and if you are taking on any major works.
In Year 11 you can figure out more of how much you can manage, so it's good to take risks and pick something that will challenge you. Challenges are what will grow you and increase your capacity.
Scaling:
There is a large difference in scaling between English Standard and English Advanced.
There is a consistent difference between how grades are scaled between the two major English subjects. Essentially, this means high marks in English Standard don't mean as much as high marks in English Advanced. Always go for the HIGHER level.
The other reason why you should always go for the high-level subject rather than the lower level, is because you can't go up but you can drop down! So you can always start with Advanced English, and then drop down to Standard English later.
Still not convinced?
Here is some evidence:
Have a look at Page 4 from University Admission's Centre Preliminary Report on Scaling. It shows that 'Scaled' Mark that students receive if they are specific 'percentiles'.
To understand the impact of scaling, we want to look at the first column, which provides the scaled mark (out of 50) for students performing in the top 25%.
We can see that in English Advanced this = 31.5
In English Standard, however, a top 25% performance would be scaled to 20.1%.
Unfortunately, this means that a better outcome in English Standard means much less than it does in English Advanced.
Making your Decision
"I know what my options are but I don't know which one to choose."
AIM HIGHER, you can always go back down but it's not as easy to go up!
You can go from doing Extension to Advanced, to Standard to Studies, but it's not so possible to jump from English Studies to English Extension. Likewise it's difficult moving up from Standard to Advanced. So moral of the story is to choose the highest level you can!
Still a bit hesitant and unsure?
Make sure you have done the following:
Speak to your HSC English Teacher or Co-ordinator
Talk to students who are currently studying HSC English in Year 11/12 or students who have finished
Joined the AOS HSC English Discussion Group on Facebook!
You're welcome to ask us too if you have any questions.
The best place to do that is to share your question on the discussion group, as I'm sure many other students will be wondering the same thing. It's better to ask than to have regrets later!
---
Anna Dvorak graduated from High School last year and is now studying a Bachelor of Communications, majoring in media, arts & production and journalism, at UTS. Alongside studying, Anna works as an Academic Coach & Mentor at Art of Smart while also doing freelance work. She is very passionate about the art of storytelling and helping people fulfil their potential. In her free time, you'll find Anna working on her craft, reading, watching Netflix, somewhere outside or catching up on sleep.
Cameron Croese is a qualified English teacher, who has a Bachelor of Education (Secondary) / Bachelor of Arts (English) from Macquarie University and is currently undertaking a Masters of Education in Melbourne. A long-time Art of Smart coach, Cameron has supported over 60 students from Years 7 to 12! When not studying, Cameron is an avid writer, having won several awards for short stories, including the Alan Marshall Short Story Award.