Holistic Hills District HSC English Tutoring
Learn at our campus, home, or online 🙌
English tutors from The Hills District for The Hills District
Our students gain confidence and master HSC English
Since being founded in 2009, we have built a strong reputation for delivering outstanding and holistic HSC English tutoring in The Hills District for year 11 and 12 students.
Our Hills District HSC English tutoring students on average see a 20.7% increase in their marks and 93% of our customers agree that our tutors' teaching methods work well to increase their child's understanding and confidence!
Experienced Hills District HSC English tutors near you
Our English tutors provide personalised tutoring and holistic mentoring that helps students excel academically and sees them grow inside and outside of the classroom.
Check out some of the schools in the Hills District we've helped students reach their goals for English in.
We understand the Hills District with our local expertise
With tutors from the Hills District, we understand your needs. Whether it be providing tutoring in the comfort of your own home, at our Hills Campus, online or at the Stanton Library, we can guarantee there's a location that's convenient for you. 
With experienced tutors equipped with the latest print and online resources for any K-12 subject, we can ensure we're providing holistic support for our North Shore English tutoring customers. 
Successfully helping K-12 students excel at school and beyond since 2009.
Average student
mark increase
Believe our tutors build fantastic rapport
Received university early entry or scholarship offers
Our Hills District HSC English tutoring helps you…
Master your English texts
Through in-depth analysis and a deep dive of key ideas.
Develop your analytical skills
Through unseen HSC-style practice questions.
Develop strong arguments
Through critical thinking that will get you a Band 6
Memorise all of your quotes
By implementing effective study techniques for smarter study.
Compose Band 6 essays
By arguing key ideas with depth and understanding.
Ace your English exams
. By implementing study techniques that relieve anxiety, stress and pressure
We'd love to chat with you to learn more about your goals for school!
What do you need the biggest help in?
(Select one of the options below)
Comprehensive Resources Designed by Qualified Teachers
Packed with skills-building activities and practice questions, our English Resource Books have everything you need to stay up to date and master English!
Written by qualified teachers and tutors
Activities and practice questions that put your English skills to the test
Build essential skills such as analysis, critical thinking, and essay and creative writing
Comprehensive skills-building that helps you excel and prepare for HSC English
Print delivered to your door.
Available online, 24/7.
Hannah Roux

Experienced HSC English Tutor

Studying a Bachelor of Arts at the University of Sydney
Experienced Senior Coach
Plans to pursue a Master of Teaching
Top tip: Always have a plan of your essay structure before walking into an English exam!

Patrick Sparke

Experienced HSC English Tutor

Studying a Bachelor of Arts and Bachelor of Secondary Education
Received Campus MVP Award in 2020
Experienced Senior Coach
Top tip: Use practice questions to test whether you're confident with your content!

Jessica Duan

Experienced HSC English Class Teacher

Studying a Bachelor of Secondary Education with a Bachelor of Arts majoring in English
Experienced HSC English Senior Coach
HSC English Resource Designer
Top tip: Use visual memory techniques like flow charts and colour coding!

Brooklyn Arnot

Head of English

Bachelor of Arts in English (Honours) from USyd
Co-Host of the HSC English Literature Program on Art of Smart TV
Class Teacher of the Year 2020
Top tip: To set yourself up for success, spend time understanding your text's ideas and concepts!
Small Classes or 1 on 1 Sessions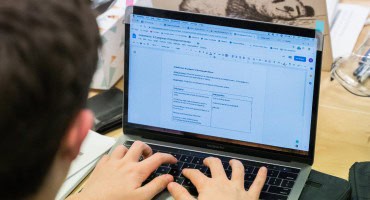 Small Classes or 1 on 1 Sessions
How to get started with Hills District HSC English tutoring
Get in touch
Fill out our contact form so we can get in touch about what suits you
Get matched
Be paired with one of our tutors that suit your personality and learning style!
Kickstart your first session
Start your holistic tutoring journey with zero booking and cancellation fees

Call us at 1300 267 888 or leave your details below and we'll be in touch to help you achieve your goals