Want to give up on the HSC?
We get asked this question ALL the time…
"Is it too late to improve my HSC results???"
In this video, Rowan from #AOSTV shares why it's NOT too late to significantly change your results for your HSC.
Rowan shares:
The Marathon vs Speed Skater Approach to the HSC and which one is better
What the Change Principle is, and how it can help you improve your results!
A case study of 36% improvement in HSC English from Emmerson
A step-by-step guide to actually improving your HSC results from today!
Ready to get started and dramatically improve your HSC results?
Let's jump right in!
Marathon vs. Speed Skating Approach to the HSC
Imagine you're running a marathon, and you're lagging a little at the back of the pack. At this point your legs hurt, you're tired and all you're thinking about is giving up.
It's too hard. You want to quit. You're never going to win or finish in a good position.
Which is fair enough! Running a marathon is very, very hard. And a lot of people feel this way about their HSC!
But!
The truth is, the HSC is more like speed skating. You can be right at the back of the pack and in a short time, you can dramatically improve your results and win the race!
Now, you've likely done 2 assessments so far. The weighting of these assessments depend on your school, so let's assume they were worth 20% each.
So that's 40% of your HSC results done so far right?
Except it's not. It's 40% of your INTERNAL HSC results so far, which only count for 50% of your total HSC mark!
Meaning you're actually only 20% through your HSC journey and you've got 80% of the HSC to go! 
So how do you make this 80% count?
The Change Principle for Improving your HSC Results
Einstein famously said that the definition of insanity was…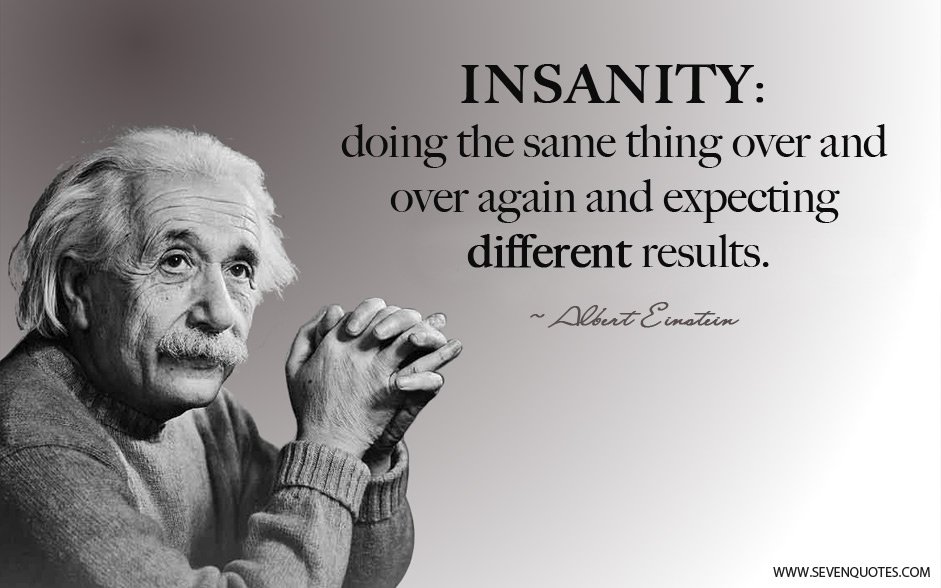 While it might seem difficult or impossible… it is 100% possible to change your HSC results in the next 80% of your HSC journey.
Emmerson Brumby [Case Study]
After 20% of her HSC journey, Emmerson's English results were pretty abysmal… she was sitting around 50%.
Nevertheless, by the end of the year and with our support, Emmerson was able to improve her results by 36% and got an incredible ATAR!
So, now that you know it's possible…
How do you improve your remaining 80% of HSC marks?
If you want to dramatically change your HSC results, let us take you through step by step.
Step 1: How did you prepare for your half-yearly exams?
Firstly, you want to reflect on how you prepared for your half-yearly exams and previous assessments this year.
Get a paper and pen and write down everything you did to prepare. You can make two lists if you like, one for preparing for assessments and one for preparing for exams.
Make sure to include how you studied, other things you did to prepare and what you did the night before and the day of the assessment/exam.
Step 2: What do you need to change before HSC Trials?
Now you've got an awesome list of what you did to prepare in the past, take a look and figure out what you need to change.
You need to intentionally identify the strategies that worked best for you and what strategies didn't work at all (for example, watching Netflix while studying… guilty).
Now you've done that, make a note of the strategies you're going to scrap, what you're going to keep and what you're going to try for the first time!
Step 3: Make those changes!
Now that you know what works for you and what definitely doesn't, make the changes you've decided on and watch those results dramatically improve!
Looking for a tutor to support you while you ace the HSC?
We pride ourselves on our inspirational coaches and mentors!
We offer tutoring and mentoring for Years K-12 in a large variety of subjects, with personalised lessons conducted one-on-one in your home or at our state of the art campus in Hornsby!
To find out more and get started with an inspirational tutor and mentor get in touch today! 
Give us a ring on 1300 267 888, email us at 

[email protected]

 or check us out on Facebook!
---
Isabella Hanley loves science. She loves science so much she's making it her career. While completing her Bachelor of Medical Science she is also a Coach and Digital Content Manager at Art of Smart. She is super passionate about sharing her knowledge on surviving the HSC since completing the HSC herself in 2014. In her downtime she enjoys Netflix binging like a pro, singing in the shower and hanging out with her awesome rescue dog, Ruby.