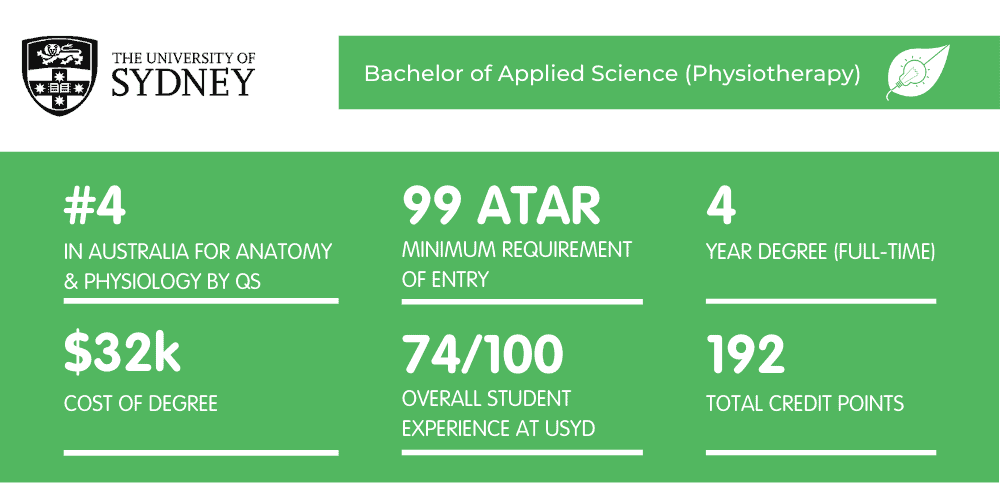 Are you interested in studying USYD Physiotherapy but want to know what it's like before you commit?
We'll cover everything you need to know about the degree in this article, from core units and honours to the assessments, culture and more!
Let's dive in!
What is a Bachelor of Applied Science (Physiotherapy) at USYD?
To study physiotherapy at USYD, you'll complete a Bachelor of Applied Science (Physiotherapy). You can expect to learn about human anatomy, the different areas of physiotherapy, and the foundational skills you need to diagnose and treat patients suffering from joint, muscle, and nerve disorders.
A Bachelor of Applied Science (Physiotherapy) at USYD is a four-year degree, and you will be able to work as a Physiotherapist once you graduate without any additional study!
Honours
Honours is offered to high-achieving Physiotherapy students as an integrated program. This means that you will complete an Honours project across the last three semesters of your degree, and that you'll take Honours units instead of electives.
Completing an Honours project will see you working under a supervisor on a particular topic, collecting data from research participants to present to other academics, and producing a research thesis. 
To be eligible for Honours, students will need to maintain a credit average throughout their degree and not fail any units!
Find out more about Honours here!
Careers
While it might seem that working as a physiotherapist is the only career available from this degree, that couldn't be further from the truth! With a Bachelor of Applied Science (Physiotherapy), you can work in a variety of careers, including:
Musculoskeletal physiotherapist

Neurological physiotherapist

Cardiorespiratory physiotherapist

Public and private sector

Health care organisations

Sports industry

Schools and community 

Private practices 

Health education
This degree is also accredited by the Australian Physiotherapy Council (APC). This means that graduates are recognised as having the required skills to work as a physiotherapist, and that they can register as physiotherapists with the Physiotherapy Board of Australia (PBA).
Once you have graduated and have some experience working as a physiotherapist you can also  specialise further and become a titled physiotherapist in a particular area with the Australian Physiotherapy Association (APA)!
Core Units for this Degree
What are the Core Units?
First Year 
In first year, you will take bone and muscle anatomy units that focus on the areas from your shoulder to your fingertips in semester one, followed by the rest of the body in semester two.
You will also learn about histology, neuroscience, and cardiac and renal systems, as well as ethics, sociology, and practical skills such as manual therapy and diagnostic assessments!
Second Year
As you progress to second year, you will learn about motor control — including how to teach someone to juggle — and you will take units covering exercise physiology, preventative health care, and musculoskeletal, neurological, and respiratory and cardiac conditions. 
You will also undertake your first clinical placement in between second and third year!
Third Year
At the start of third year, you will study advanced musculoskeletal, neurological, and cardiorespiratory physiotherapy units, as well as paediatric physiotherapy.
In your second semester, you'll undertake two five-week placements followed by a condensed, ten-week semester. During the condensed semester, you will study Physiotherapy in Multisystem Problems, which will see you exploring complex clinical cases, and an elective or Honours unit.
Fourth Year
Your final year will see you undertaking two more placement units, with room to study your final two electives or Honours units. 
Other core units include Advanced Professional Practice A and B, and Physiotherapy in Sport and Recreation. In these units you will look at complex cases studies and disorders, as well as learn how to apply the skills and theory you've learnt to sports and recreational activities!
Areas of Physiotherapy
Since becoming a registered physiotherapist requires you to know about the different areas of physiotherapy, this degree doesn't offer any opportunities to major or specialise. Instead, you'll learn about the three areas of physiotherapy equally:
Musculoskeletal physiotherapy: This includes bone, muscle, and joint issues, such as sprains and injuries.
Cardiorespiratory physiotherapy: This includes gas movement and secretion issues, where patients might have trouble clearing phlegm or have other breathing issues.
Neurological physiotherapy: This can include patients suffering from strokes, traumatic brain injuries, Parkinson's, multiple sclerosis, and other conditions.
Placements
When it comes to practical work experience, studying Physiotherapy at USYD means that you'll complete six placements starting from the end of second year, including at least one rural or regional placement. 
These are often held in-between semesters, and you will get to work in different environments — think aged care facilities, hospitals, and private practice — and get experience in the different areas of physiotherapy so that you can become an accredited physiotherapist.  
There are scholarships, loans, and support schemes available to students completing their rural placement too, which you can find out about here!
How to Get into Physiotherapy at USYD 
The ATAR cut-off for a Bachelor of Applied Science (Physiotherapy) is an ATAR of 99. If you don't meet the ATAR requirements, there are alternative ways into your dream degree here!
Assumed Knowledge
Physiotherapy requires a lot of knowledge about the human body and how it works. While there are no prerequisites to study Physiotherapy at USYD, the assumed knowledge for this degree is HSC Physics and HSC Chemistry.
On top of that, it's also recommended that you study HSC Mathematics.
If you haven't taken these subjects, don't worry! USYD offers bridging courses for all three so that you can start your degree on the right foot. Head here to find out more!
Scholarships
The Faculty of Medicine and Health offer several scholarships, including some especially for Physiotherapy students:
Douglas and Lola Douglas Scholarship in Health Sciences (Physiotherapy):

Value varies each year, eligible students must be Australian or New Zealand citizens or permanent residents, currently studying full-time and in their third year of a Bachelor of Applied Science (Physiotherapy) Honours.

Elaine M Grierson Scholarship:

Value of $6,000 per year for the duration of the degree, Aboriginal and/or Torres Strait Islander students studying Physiotherapy are eligible.
There are plenty more scholarships where these came from too. Find out more about the scholarships offered by the Faculty of Medicine and Health here or general scholarships at USYD here!
What's the Teaching Format?
Studying Physiotherapy at USYD means you'll have classes delivered across semesters, and will see you attending lectures and tutorials for four subjects a semester as a full-time student. 
Class Structure

Lectures
Lectures generally cover the theoretical aspects of your subjects and are your largest classes, with up to 100 people attending. They run for 1-2 hours and can include live demonstrations and group activities, so it's best to attend in-person!
Tutorials
The tutorials are generally 2 hours long and more hands-on than lectures, with about 25 people attending.
For anatomy and neuroscience subjects, you can expect to see and work with live cadavers and learn about what the different muscles and organs look like. 
In physiotherapy subjects, you get to try out diagnostic tests on other classmates or manikins, as well as learning how to use different equipment and how to prescribe exercises to people.
How many hours do you have to go to university?
As a full-time Physiotherapy student at USYD, you'll be attending 12 to 16 hours of lectures and tutorials each week. On top of this, you'll need to make time to complete assessments and study for exams so that you don't fall behind.
You also shouldn't forget to account for time spent at placements!
What are the assessments like?
Since studying Physiotherapy at USYD will equip you with practical skills and theoretical knowledge, you will be assessed via a combination of written and practical exams. Other forms of assessments such as quizzes and assignments are much rarer.
Exams
The most common form your assessments will take are exams, with most units assessing you via mid-semester and final exams.
Mid-semester exams make up about 20-30% of your final mark and can test your understanding of the theory or your practical skills.
Final exams are held at the end of semester during the exam period, and are worth up to 70% of your final mark. Some subjects will also require you to take a physical exam and theory exam within the exam period, meaning that you can have up to seven exams across two weeks!
"There are a lot of [exams]. Year 1 sem 1 you have six [exams], year 1 sem 2 you will have six again because anatomy subjects will have a practical exam where you do a spot test [and] you identify the structures on the cadaver, [and] you have a theory exam. And your physio subjects … will have a theory and a [practical exam]." — Clement Wong
Assignments
Assignments can take various forms, such as written reports, group presentations, and digital exercises, and vary in weighting from 5% to 30%.
Quizzes
For subjects that assess you via quizzes, you can expect to complete multiple quizzes across the semester. These are generally online and worth about 10% of your final mark in total.
Skills That You Refine and Learn
Studying Physiotherapy at USYD will equip you with a variety of different skills that you'll need to be a physiotherapist. Alongside learning about human anatomy, biology, and the theory behind different areas of physiotherapy, you'll develop skills in clinical reasoning so that you can identify issues patients are suffering from and how to treat them!
As well as clinical reasoning, you will learn how to communicate with patients and other health workers, actively listen to patients, and how to work with others on placement and in the workforce.
This degree will also help you develop your cultural competence, meaning that you will have a better understanding of how a person's cultural background will affect their worldview and you will learn how to incorporate that into their treatment.
"People like to say not every patient's the same. You can't use a cookie cutter structure [for] everyone. So you do learn to adapt and be more mindful of these things." — Clement Wong
What's the Faculty and Culture Like?
Faculty and Culture
Traditionally, Physiotherapy has been taught by a small faculty on USYD's Cumberland campus in the College of Health Sciences. From this year, Physiotherapy students will be studying on main campus in USYD's Susan Wakil Health Building.
"[The lecturers and tutors are] very knowledgeable. They generally will have clinical experience so they can help you with your clinical reasoning. They're very open, always happy to help, and they're always happy to chat." — Clement Wong
Since you'll be studying with the same people across many of your subjects, it's easy to make friends within your cohort too. You'll also find that the culture is a supportive one, and that students are happy to help each other out across year levels.
Mentoring
To help first-year students adjust to university life, USYD runs a Peer Mentoring program each semester. First-year students are placed in small groups with a senior student studying the same degree and attend informal mentoring sessions, workshops, and social events during the semester. 
To find out more about peer mentoring at USYD, head here!
Societies
When it comes to societies, the Sydney University Physiotherapy Society (or SUPS) is a top choice for meeting like-minded students. SUPS hosts guest speaker nights, running and walking challenges, social events, and training courses throughout the year, giving you plenty of opportunities to network, socialise, and hone your skills.
Head here to explore Sydney Uni's 250+ societies!
---
Rachel Fieldhouse is a Content Writer at Art of Smart Education and has just completed a double degree in Science and Arts at The University of Sydney, majoring in Chemistry, English, and Linguistics. Rachel's writing has been published in Concrete Playground, Inside Enterprise, Planting Seeds, and SURG FM, and she currently writes blog posts for Remi AI, a Sydney-based Artificial Intelligence firm. When she's not writing, you can find Rachel playing her saxophone or flute, or relaxing with some sudoku.