Is your child in year 12, or starting Year 12 soon? Perhaps this is your first child to sit the HSC, and you aren't sure what to expect.
The HSC is the final year of high school, and with that comes a lot of new systems and terms that can get confusing. So, we've got you covered with the parent explainer for all things HSC! 
From the ATAR, to Bands, UAC, and trying to get into university, everything you need to know is on this page.
Let's dive in! 
What is the HSC?
The HSC stands for Higher School Certificate, and it essentially means that the student has completed their education at a high school or secondary level within New South Wales. Year 12, or the final year of high school can also be referred to as the HSC.
Additionally, the final exams that Year 12 students sit, around October and November, are referred to as HSC examinations.
These examinations are what count as 50% of your child's mark, and the other 50% of marks are internal — they come from the assessments and tests that they have completed at school in the past year. 
These marks then determine the ATAR, which we will go into more depth later on in this article. 
Why should my child complete the HSC?
Whether or not your child wishes to pursue tertiary education, that being university or TAFE, completing the HSC is recommended. 
Completing secondary education is advised for any basic level of employability outside of schooling. If your child does not plan on attending university, and instead wishes to pursue vocational study through TAFE, an apprenticeship, or enter full-time work after high school, sitting the HSC exams and completing Year 12 is still very much encouraged.
In this instance, your child can choose not to receive an ATAR, but they will still receive their Higher School Certificate and be recognised for completing their secondary education. This is because the ATAR is used for university admission. 
What is an ATAR?
Speaking of the ATAR, you may be thinking, what is it? 
Firstly, ATAR stands for Australian Tertiary Admissions Rank. Now the important term to take away is "rank", because the ATAR is often thought of as a mark, which it is not!
The ATAR indicates your child's positioning against the entire cohort, which is everyone in NSW across every high school. 
For example, an ATAR of 70.00 means that your child is ranked in the top 30% of all students. This is because the ATAR includes every student into the rankings, even those who choose not to receive one. The ATAR goes by increments of 0.05, and the possible rankings range from 0.00 and 99.95 — so a 100 ATAR does not exist because it is not a mark out of 100, but a rank! 
If your child is working towards ATAR they need to be doing at least 10 units of subjects (including 2 units of English).
But, what is the ATAR for? The ATAR is used by the University Admissions Centre, UAC, which provides students with entry into universities through this ranking. 
Although the ATAR is the main route students take to gain entrance into university, it is not the only way! There are a range of alternative pathways a student can take, including scholarships, entry schemes, adjustment factors and more. 
If you want to find out more about how the ATAR works, and what on earth 'scaling' is, have a read of How Do My HSC Results Get Turned into an ATAR?
How is the HSC marked? What are bands?
Now that you have a general understanding of the ATAR, let's take a step back and find out what actually goes towards the ATAR, and how are the subjects marked for the HSC.
Simply put, the final HSC results that your child receives are put into brackets known as Bands. This starts at a Band 1, which is given to a mark ranging from 0 to 49, and ends at a Band 6, given to a mark from 90 to 100. 
These Bands are calculated by totalling the internal marks (which are the assessments completed throughout year 12) and the external marks (which are from sitting the final HSC marks) as a percentage or out of 100. 
If your child is doing an extension unit, such as Extension 1 and/or 2 Maths, Extension 1 and/or 2 English, Extension History or Extension Science, the Bands are slightly different.
Instead of a Band from 1 to 6, extension subjects use E1, E2, E3 and E4, starting at 0-24 marks for an E1, and ending at 45-50 marks at an E4. 
The marks for an extension subject are out of 50, and this is because extension subjects are 1 unit. They are therefore worth half of a usual subject that is 2 units and marked out of 100.
Hopefully this gives you a general understanding of the different bands, what they mean and how it varies between two unit and one unit subjects.
If you would like to find out more on what these bands are used for, and how they work in more detail, check out What Do the HSC Bands Mean?
Offers from the University Admissions Centre (UAC)
If your child is looking to enrol in university after high school they would need to do so through the University Admissions Centre, known as UAC. Through UAC, your child can put in their preferences for the different universities and courses they wish to enrol in. 
This is limited to five courses and are placed in order from the number one degree they wish to get into, or their dream course. From here, UAC has offer rounds, where your child may get offered a place in a degree. 
There are multiple rounds that occur from before the ATAR release, right up to just before university starts the following year. This means that even if your child's dream course does not come up in the first round, there are numerous opportunities following this for them to have a chance at getting into one of their preferred courses! 
If you would like to understand more about how the offer rounds work, and how best to go about accepting and rejecting offers, click onto the article below!
How Do UAC Offers Work and How Can I Use Them To My Advantage?
What if your child doesn't get the required ATAR for their degree?
As previously mentioned, the ATAR is the most common route Year 12 students take to get into university, however that does not mean it is the only route! There are a range of alternate pathways that a Year 12 student can take to get into university, especially if they were not able to receive the ATAR they planned for.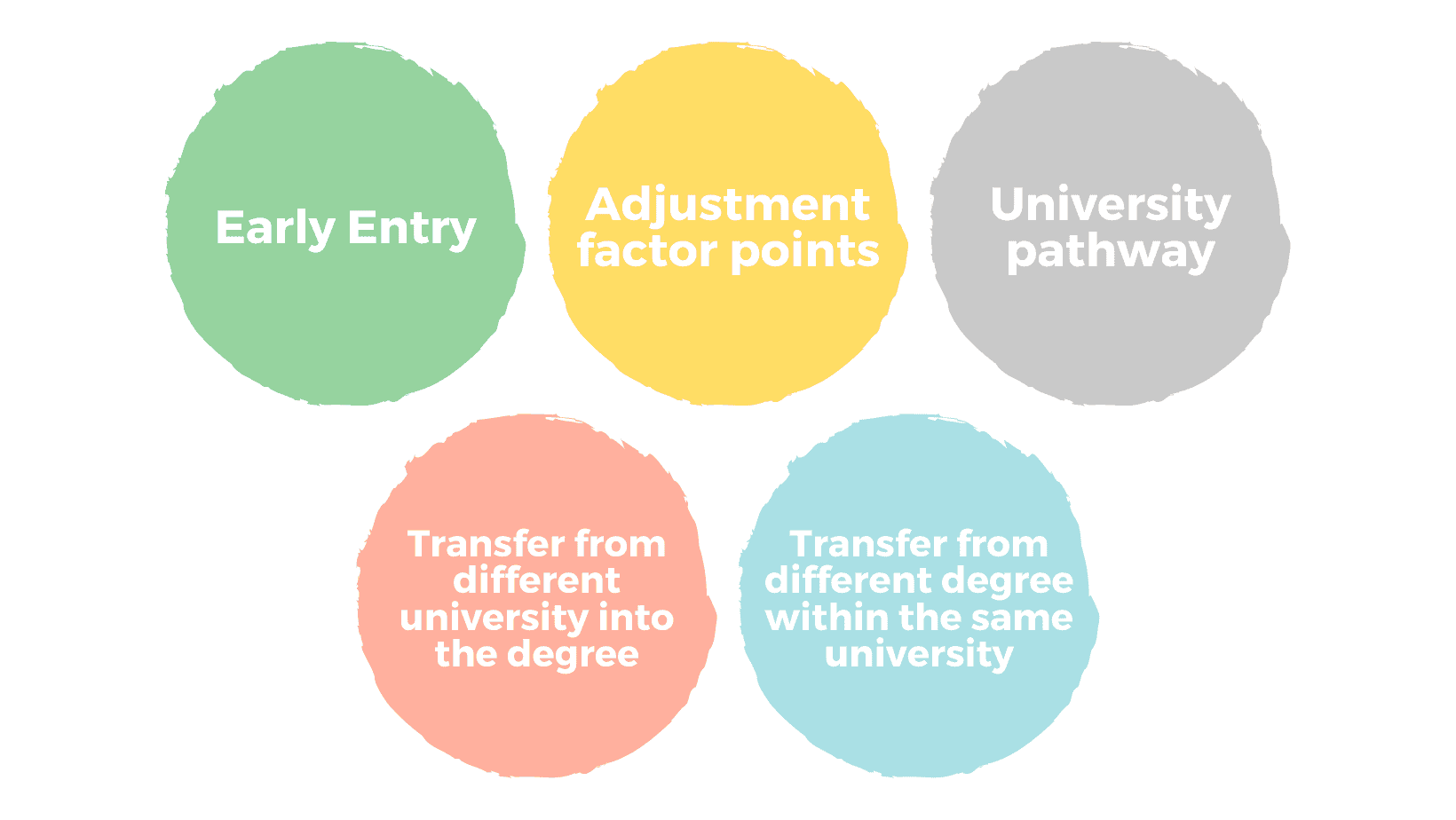 Early Entry
Even before HSC exams come around, your child can apply for Early Entry, which is offered at most universities. Depending on the institution, Early Entry schemes may look at the student's internal marks (meaning all their year 12 assessments before HSC exams) or even their Year 11 marks. 
In addition, they may consider extracurricular, or co-curricular activities that your child has been engaged in throughout high school or their local community. 
Looking for advice on completing early entry applications? Check out our article here!
Adjustment Factor Points
Again, depending on the university, there is a huge variety of adjustment factors, otherwise known as bonus points, that your child may be entitled to. These could depend on personal circumstances such as geographic location, financial position or excellence in a particular subject.
University Pathway
A university pathway is another kind of alternative route your child can take to get into their desired degree. This could be something minor like a bridging course to help them build the necessary foundation studies for the degree, or a college/diploma course that is an additional year of study to help prepare students for a certain degree. 
Transfer from Different University into the Degree
In some instances, your child's dream degree might only be offered at a select one or two universities. So if they don't receive the required ATAR for admission, it can feel like a major setback. Regardless, there are always other pathways!
Alternatively, your child could study a similar degree in the same field of study or department at another university. They can then aim to transfer into their dream course and university after a year of study!
Transfer from Different Degree within the Same University
In line with the previous point, there may be similar degrees offered at the one university. So, your child could enrol in a similar degree with a lower ATAR requirement and then transfer after a year of study into the desired course.
There may be some subject requirements at the foundational level that align or overlap. So students can then apply for a credit transfer where some of their subjects from the initial degree can count towards their dream degree! 
It can be challenging, confusing, and stressful at the best of times when trying to find other ways to help your child get into their dream course.
If you would like to read more about the five options mentioned above, be sure to look into 5 Alternative Entry Pathways into Uni if You Don't Get the ATAR You Need.
There you have it!
You now know all there is when it comes to the HSC. All the confusing terminology and abbreviations, though overwhelming at first, make much more sense when put into context. 
So, the next time your child might be stressing about their ATAR, saying they want to aim for a Band 5, or are trying to select their UAC preferences, you know exactly what they are talking about! 
Are you looking for some extra help for your child during the HSC?
We have an incredible team of HSC tutors and mentors!
We can help your child master their HSC subjects and ace their upcoming HSC assessments with personalised lessons conducted one-on-one in your home or at our state of the art campus in Hornsby or the Hills!
We've supported over 8,000 students over the last 11 years, and on average our students score mark improvements of over 20%!
To find out more and get started with an inspirational HSC tutor and mentor, get in touch today or give us a ring on 1300 267 888!
---
Nandini Dhir is a Content Writer at Art of Smart and is currently studying a Bachelor of Arts (majoring in Marketing) and a Bachelor of Advanced Studies (Media and Communications), as a Dalyell Scholar, at Sydney University. She enjoys covering local issues in her area and writing about current events in the media. Nandini has had one of her pieces published in an article with the Sydney Morning Herald. In her free time, Nandini loves doing calligraphy, ballet, and sewing, or is otherwise found coddling her cats.