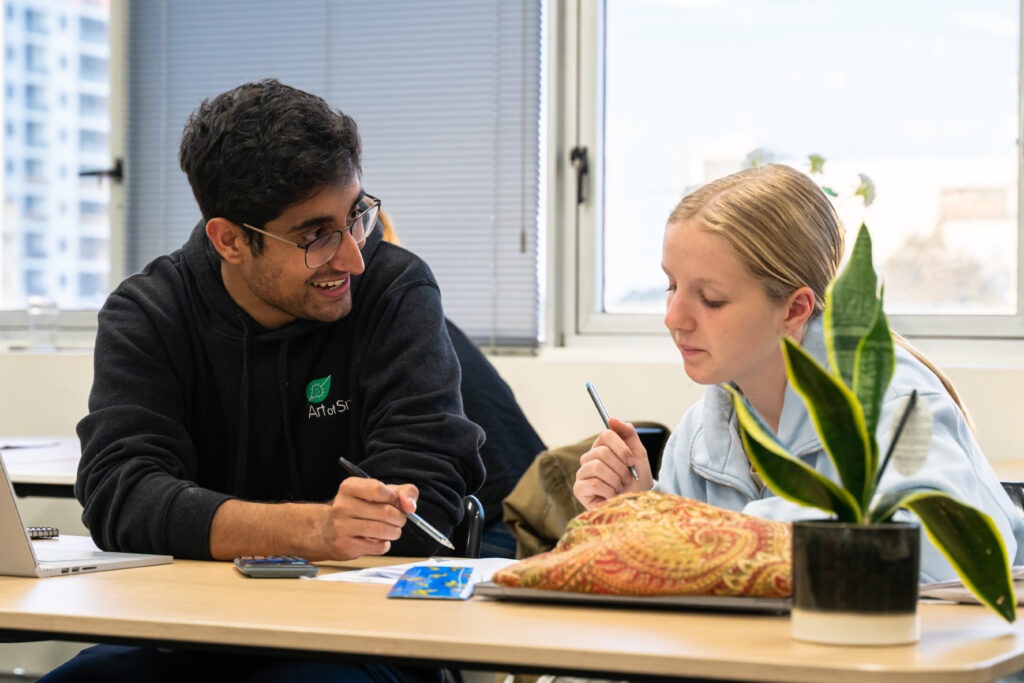 One of the things we're big believers of at Art of Smart Education is affordable pricing that delivers INCREDIBLE value!
So you can rest assured that you're getting great pricing and amazing value, we've gone out and conducted a market survey of the Top 10 tutoring organisations across QLD to compare pricing and service delivery for you.
We've anonymised it so we don't call any specific organisation out, while at the same time being able to provide you with confidence around what 1 on 1 tutoring costs in QLD as of 2022 and how different rates compare!
Tutoring Prices in Queensland 2022
Organisation
Pricing
Art of Smart Education
K-10: $60 p/h
11-12: $70 p/h
Company #1
$65 per hour
Company #2
$60-$80 per hour
Company #3
$70 per hour
Company #4
$64 per hour
Company #5
$55-65 per hour
Company #6
$60 per hour
Company #7
$57.50 - $72.50 per hour
Company #8
$66 per hour
Company #9
$70 per hour
Average Hourly Rate for 1 on 1 Tutoring
$65.50 per hour 
As you can see from the above, our 1 on 1 tutoring at Art of Smart Education is incredibly competitively priced 😊
Importantly, we have no booking fees, no contracts, and if you provide 24 hours notice you can cancel a booked lesson with no charge!
How does our service and the value we provide compare?
Tutor Recruitment Process
Art of Smart Education
Other Tutoring Organisations
We receive over 4,000 applications from tutors each year and only 1 in 8 pass our high standards to become a tutor with us.

All Art of Smart tutors undergo a comprehensive recruitment process including a 45-minute interview where they are required to teach us via delivering a lesson which we use to assess communication & teaching skills.
Generally have no requirement for a tutor to first teach and deliver a lesson to determine their communication & teaching skills.

Tutors are recruited largely on the basis of their prior academic record only with little evidence of teaching or role model capacity.

Receive a much smaller number of applications, and have less quality to therefore choose from.
Trained and Certified Tutors
Art of Smart Education
Other Tutoring Organisations
To start supporting students, our tutors must complete our Tutor Certification process designed by qualified teachers.

This training process ensures they are equipped with the key skills they need to teach the specific subjects they specialise in. 

We then provide ongoing training and support for tutors throughout the year via weekly resources and training conferences.
Most tutoring organisations have very little training in place for tutors.

If they do, they tend to focus on administrative processes only, with very little on developing tutors' teaching practices.

If training is delivered it is generally one-off with little ongoing support for tutors who are left to their own devices.
Curriculum Aligned Diagnostic Assessments
Art of Smart Education
Other Tutoring Organisations
Our team of qualified teachers have designed K-6 curriculum aligned diagnostic assessments across Maths & English to help identify the exact areas primary school students need support.

Parents receive a personalised report that shows the exact curriculum outcome areas they need to be addressed, and areas of strength.
Usually, K-6 diagnostic assessments are typically only available at physical tutoring colleges with campus locations.

Most 1 on 1 home tutoring doesn't provide diagnostic testing for students.
Curriculum Aligned Tutoring Learning Resources
Art of Smart Education
Other Tutoring Organisations
We are very unique in Australia in our provision of comprehensive tutoring resources for K-12 for all tutors and students.

These tutoring resource books are aligned to state and national curriculums and have been designed by qualified teachers.

They provide tutors & students with week by week lesson materials, notes, worked examples, practice questions and more for every week of the school year.

This ensures that students receive incredibly high-quality tutoring support, with a wealth of resources to access and use.
Most tutoring organisations provide no tutoring & learning resources to their tutors.

Instead, tutors are left to find their own resources from when they were perhaps a student, or from online searches they have conducted.

This impacts the quality of the tutoring delivered significantly and impacts a student's ability to build their knowledge and practise applying it with practice questions.

If resources are provided, they tend to be resources that are available online that have been collated, rather than being intentionally designed to support students' learning in tutoring.
Print & Online Tutoring Resources for Students
Art of Smart Education
Other Tutoring Organisations
We make our tutoring resources available for students both as Printed Resource Books which we ship and deliver direct to a student's home + also make it available 24/7 through our custom-designed learning app (desktop and mobile). 

We are the only organisation in Australia that ships printed resources books direct to students' homes for 1 on 1 tutoring.
No other tutoring organisation provides printed resource books shipped to a student's home.

Only 1-2 other QLD tutoring organisations provide a specific online portal/app for accessing tutoring and learning resources.
Individual Student Learning Progress Reports
Art of Smart Education
Other Tutoring Organisations
Parents can access weekly lesson reports via our Online Portal that provide updates on homework completion, quality of homework completion, student engagement in lessons, key outcomes achieved in lessons, and new homework assigned.

Additionally, these are automatically emailed to parents every 2-3 weeks as a report. 
Most 1 on 1 tutoring organisations don't provide lesson reports - they simply match a student and tutor, and then step back leaving a tutor to their own devices.

A few QLD tutoring organisations provide some basic lesson reporting, although it doesn't include important details around homework assigned, homework completion, and student learning engagement.
Holistic Study, Exam and Wellbeing Support
Art of Smart Education
Other Tutoring Organisations
At Art of Smart we've conducted 10 years of research with Australia's top-performing students (Top 2% scoring 98+ ATAR). This research is the feature of a book and has been used to identify the key ways in which high performing students successfully get motivated, manage their time, stay focused, write study notes, study smart, prepare for exams, manage stress & maintain wellbeing. 

This research underpins the tutoring support we provide.

Our tutors are trained specifically to mentor students within tutoring sessions and to actively support students develop these key skills to start smart, from goal setting to creating study plans, to preparing for exams.

Additionally, we provide exclusive workshops throughout the year for Art of Smart customers that provide additional support for students.
No other QLD tutoring organisation has conducted research with students to identify the best strategies to study smart and maintain wellbeing so students can achieve their best.

While a couple of tutoring organisations claim to support students with study skills in sessions, only 1 other QLD based tutoring organisation has integrated any of this into their training for tutors, or their learning programs.

None run additional workshops and support throughout the year for students to develop these skills. 
Customer Support Team
Art of Smart Education
Other Tutoring Organisations
We have a dedicated QLD based customer support team available Monday - Friday 9 am to 5 pm via phone or email.

They proactively get in touch with all of our customers throughout the year to check in on lesson progress, get and share feedback and support you to ensure tutoring is a success. 

If there are ever any challenges or issues, our support team are available to work with you and your tutor, or even look at pairing you with a different tutor.
Most tutoring organisations match you with a tutor and then leave you and the tutor on your own.

If they do have a support team, often it has been outsourced or is only available over email.
Track Record Supporting Students
Art of Smart Education
Other Tutoring Organisations
We've been in business for over a decade and have a proven track record in supporting students.

1️⃣ On average our HSC students improve their results by 20.7%

2️⃣ 93% of our students experience improved confidence

3️⃣ 9 in 10 students gain increased motivation and reduced procrastination

4️⃣ 80% of students experience reduced stress and anxiety around exams

5️⃣ 97% believe our tutors have built fantastic rapport in tutoring sessions
A lot of tutoring organisations come and go each year and as a result, don't have a long term track record in supporting students.

If they have been around for a period of time, often they haven't identified clearly with data the results they are achieving with students which then makes it difficult to evaluate their impact.
About Art of Smart Education
At Art of Smart Education, we're an award-winning provider of holistic tutoring and mentoring for students in years K-12. Our mission is to help students answer the difficult question, "What am I going to do with my life when I finish school, and how do I get there?" 
We understand that true success involves mastering study, career and leadership skills while maintaining your wellbeing, not just excelling in academics and as a result, over the last decade, we've supported over 10,000 students to achieve their best and maximise their options for life after school.
Each year over one million young Australians, parents, and teachers access our guides, videos and resources to navigate the journey through high school.