So a Bachelor's degree with UNSW Psychology has piqued your interest?
Good news, you've come to the right place! From majors and teaching formats to the general faculty culture, we've lined up everything you need to know about studying a Bachelor of Psychology at UNSW.
What are you waiting for? Scroll down for more.
What is a Bachelor of Psychology at UNSW?
If you're reading this then you probably already know that psychology is the study of the mind and behaviour, so let's get down to the nitty-gritty. 
UNSW Psychology offers world-class training in this ultra-diverse, scientific discipline. You'll be given all the tools necessary to understand learning, memory and cognition, where you'll dive into a range of different fields of psychology, including forensics (for any Sherlock Holmes fans out there). You'll also be exposed to some really cool practical experiments and you might even find yourself wearing an electroencephalogram (a cap that measures electrical activity in your brain). 
Career Paths
A Bachelor's degree with UNSW Psychology is built to set you up for a career in a variety of fields, including:
Organisational Psychology

Clinical Psychology

Business Consulting
Here's the rub though – you really need postgraduate education to get anywhere. Common paths are Masters of Clinical Psychology, Organisational Psychology and Forensic Psychology, however with four more years of internships or other programs you can become a General Psychologist which allows you to work in diverse fields.
The program also has a built-in Honours component, which requires an average mark of 75 to be eligible for entry. Completing the Honours year means that you'll finish off the degree with a thesis under your belt.
Studying Psychology at Other Universities
UNSW isn't the only university that offers this degree and you may want to think long and hard about where you'll pursue your undergrad studies. If you're thinking about which university will best suit your needs, you can check out what it's like studying a Bachelor of Psychology at MQ Uni or USYD!
Core Units and Majors
What Majors are available?
Unlike other Bachelor degrees, UNSW Psychology does not allow you to choose a major or a minor. Basically, you have to major and minor in psychology.
That doesn't necessarily mean that you will only be studying psychology. Students are offered eight electives over the course of the degree, meaning you can study whatever your heart desires! 
It's common for people to stick with what they know by diving into neuroscience or pick up extra psychology courses, but it doesn't stop there, you can study anything from Film Studies to Spanish.
What are the Core Units?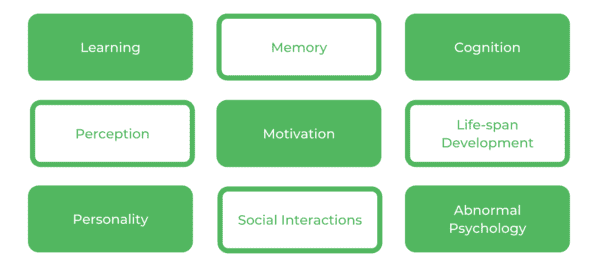 Because a Bachelor of Psychology is a foundational degree, it touches on a variety of different scientific disciplines.
The units themselves are very diverse, utilising both hard and soft skills. They all, however, revolve around scientific evidence and ways to analyse and apply it to better understand the mind.
What internship opportunities are there?
The only internship that UNSW Psychology offers is a research internship, where third year students with marks averaging above 80 are offered a term-long placement in one of the UNSW research labs. The skills developed through the program would definitely come in handy for the Honours year, plus the whole process is super supportive with a great cohort of only 20 to 40 people each term.
How to Get into a Bachelor of Psychology at UNSW
The ATAR cut off for UNSW Psychology in 2020 is 91.85, while a 98 will score you a guaranteed seat at the table. 
Are there any prerequisites?
You're in luck! There are no official prerequisite subjects for UNSW Psychology, though, being a scientific discipline, we recommend that you don't skip out on Biology. Having a grasp on endocrinology, the nervous system and the human brain in general will definitely give you a massive head start. It also couldn't hurt to pick up some humanities subjects, considering the amount of essays you'll be writing, and your thesis of course!
What scholarships are available?
UNSW has heaps of different scholarships for every faculty at the university, which can be found here!
What's the Teaching Format?
You've probably heard people complaining about UNSW's transition to trimesters and unfortunately, studying a Bachelor of Psychology will not leave you exempt from studying under this format.
But hey, trimesters aren't all bad, you might get shorter holidays but you'll be laughing when all of your USYD friends are still studying while you're decked out in your graduation gown, holding your accelerated degree!
In the trimester system, the full course load is 3 courses per academic session. One thing to keep in mind is that the trimester system permits you to take one academic session per year with only two courses while still meeting full-time requirements, which could affect your availability.
Class Structure
In terms of UNSW Psychology's class structure, the core units consist of lectures (usually 2 to 4 hours per week per subject) and tutorials (1 to 4 hours per week per subject). Lectures are large but get smaller as you progress through the degree. 
Psychology 1A (the first common psychology course) has over 1000 students in lectures, however once you're in your Honours year, expect class sizes of just 8 other students. Tutorials are usually 20-30 people, and largely discuss lecture material, encouraging discussion between classmates (they aren't, however, always successful at doing so!)
What are Assessments like?
Throughout the term, the assignments range from writing reports, to literature reviews, to media articles, to masses of statistical analyses.
Almost every class also has an exam (or two) which is usually multiple choice but can also occasionally be in short answer format depending on the subject.
Skills That You Develop
On top of providing you access to some of the greatest resources in the field and a range of significant Australian academics, the degree will also develop your research, analytical and communication skills, to make you into the well-rounded psychological professional you were always destined to be.
What's the Faculty and Culture Like?
Now we're getting to the fun part. The contents of a course are always going to be the most important part when it comes to choosing which one is right for you, but finding out whether you meld well with a university or faculty culture is definitely more a need than a want. 
Culture
UNSW is known for being pretty chill and diverse, and you definitely won't have any trouble meeting some great people. There are heaps of different societies, which will help you find some like-minded people and if big groups aren't your thing, you can always head down to the greenhouse or roundhouse for an after-tutorial drink. 
One downside to a Bachelor of Psychology at UNSW is the culture can be a little disjointed due to the sheer size of the classes. Generally, it's not until fourth year that you really start to get to know your actual cohort.
Societies
PsychSoc (the UNSW Psychology society) organises lots of events including cohort-targeted events, study sessions, and pub nights on a regular basis. These events are a great way to meet other people studying a Bachelor of Psychology and are definitely a must-go.
UNSW Psychology also has a mentoring program that has third year students mentoring first years to help them get on their feet. Other than that, the tutors and lecturers are always happy to help and there are plenty of UNSW support services to help in any difficult situation.
---
Cody Williams is a Content Writer at Art of Smart Education. While Cody studied a Bachelor of Arts in International Relations and French Studies at UNSW, he quickly realised that his dream job would have him sit happily behind a keyboard. Cody's digital writing career started with an internship at Bauer Media where he was writing for ELLE and Harper's BAZAAR's online publications. Once he had a taste for writing he never looked back, moving to Brisbane soon later to work as a Producer for Channel Nine Queensland. After a year in television media, he dusted off his online writing shoes so he could put them to good use, stamping out some scorching-hot career and educational resources at AOS.