Thinking of taking your first step in saving lives with Western Sydney University (WSU) Medicine?
You've come to the right place. Everything you need to know about this neat degree, and more, can be found right here! Study units, class formats and university culture — the only thing separating you from these details is a simple scroll on your mousepad.
So scroll away!
What is a Doctor of Medicine at Western Sydney University?
This degree is the result of Charles Sturt University and Western Sydney University coming together and saying, "Hey, let's make an amazing Doctor of Medicine degree." What they came up with is the first undergraduate program to WSU's School of Medicine with a Master's hardwired into it — a jam-packed, five-year program that will set you up for a career as a life-saving doctor. 
What makes Western Sydney University Medicine different is that it's location-focused. It specialises in providing students with practical experience, established in clinical hubs in the Western Sydney and central NSW region.
This means that undergraduate students in Campbelltown (WSU campus) and Orange (CSU campus) don't have to travel for hours to get a fully tailored med degree from the get go. In saying that, the university's state-of-the-art facilities will certainly attract students from all over. 
What will you study?
As part of the WSU Medicine program, you'll obviously study the basic sciences (anatomy, biochemistry, molecular studies), but you'll also dive into population studies (what the population needs), doctor ethics and day-to-day clinical skills.
The program prioritises practical learning over classroom-based learning so you'll be fully equipped for your medical internship when you're done!
Career Paths 
If you're interested in this course, you probably already have a pretty good idea of what jobs lie on the other side. 
The more important thing is choosing how you plan to specialise. Just in case you want a refresh, here's an idea of some of the career paths you could take after completing this degree:
General Practitioner 

Medical Practitioner (Dermatologist, Obstetrician, Gynaecologist, Pathologist, Radiologist, etc.)

Specialist Physician 

Medical Educator
These paths will become more defined once you start your clinical placement. The degree itself, just like every other Doctor of Medicine, doesn't allow for a specialisation.
How is the Degree Structured?
Now this is the interesting part. A Bachelor of Medicine at Western Sydney University is no ordinary degree.
There's no point in boring you with the concepts of Core Units and Majors, because, well, they're irrelevant. This program is fully regimented with a designated path of study that all students must take.
Instead of choosing courses, you will be given a course for each year. While most programs at uni would have you undertaking classes in Chemistry, Anatomy, Pathology, etc. as separate courses all together, WSU Medicine will select all of that for you — in other words, you won't be doing BIO101 or CHEM101, you'll be doing Clinical Sciences 1 (401279) for the whole year and that's it. 
Absolutely everything you need to know is hardwired into the degree, which takes all of the guesswork out for you (choosing subjects can be stressful, trust me). This makes the program more comprehensive so there is a guaranteed level of knowledge upon completion of the program.
What is each stage of study like?
Year of Study
Course Summary
First Year - Clinical Sciences 1

The first year is the foundation year. The idea is to introduce the biomedical sciences through practical clinical scenarios.

Through the course students will also be exposed to medical professionalism, the quality and safety of healthcare, evidence based practice and research. On top of this, clinical skills will be developed through hospital-based sessions and workshops.
Second Year - Clinical Sciences 2 
The second year builds upon the foundations established in the first year. There is a heavy focus on the clinical skills again, and the students' professional portfolios.

The portfolios are an extremely important part of the degree and are constantly updated and evaluated up until the completion of the degree.
Third Year - Applied Clinical Sciences 1 
This is where things get much more practical. The course is broken down into different modules (General Medicine, Surgery, Critical Care), comprising professional placement rotations specific to the module. These placements will take place in local hospitals and community centres.

There are, of course, theoretical modules throughout the course as well. These modules will develop upon research skills, professional and personal development and scientific streams. The research skills learnt will help students develop their MD Scholarly project (a research thesis).

At the end of this course, there's also an exit option which awards students with a Bachelor of Clinical Sciences.
Fourth Year - Applied Clinical Sciences 2 
The fourth year is largely a continuation of the third. It's a mix of practical and theoretical modules.

In this year the students have the option to undertake their placements in the Western Sydney area, or they can do rural placements in Lismore and Bathurst (students will need to fund transportation and accommodation for these placements).
Fifth Year - Applied Clinical Sciences 3 &  Medicine in Practice
The fifth year is a little bit special (because it's the last of course) meaning that the year is separated by two courses. The first half is largely allocated for students to undertake any clinical placements they have not yet completed in the years before.

The second half of the year is for the capstone. This is where students finalise their Professional Portfolio and MD Scholarly Projects, which they have maintained throughout the years. The students will also potentially have the option to choose where they do their placement, meaning it gives them a chance to complete a pseudo specialisation.  
How to Get into a Doctor of Medicine at Western Sydney University
The most basic entry point into WSU Medicine is through the ATAR selection scheme and UCAT (University Clinical Aptitude Test) results.
Students from areas outside of Western Sydney will need an ATAR of 95.50 to be eligible for entry. Local applicants will receive a little bit of leeway, and will be able to get in with a slightly lower ATAR of 93.50.
Applicants will also need to sit the UCAT test. The UCAT is a standardised test, used by select universities in Australia and New Zealand, to test both the cognitive and non-cognitive, medical-related abilities of students. 
Students will also need to sit an MMI Interview at the university, which will even further assess an applicants eligibility for the course.
The Rural Admission Scheme
Western Sydney University Medicine holds 15 seats per year for applicants that meet rural requirements. Students from these areas have the chance to apply through this scheme, with a higher chance of entry; in saying that, students from these areas also have the option to apply through the general admission scheme.
More information on the application criteria and process can be found here!
What about scholarships?
WSU has a whole bunch of scholarship opportunities. Some of these opportunities are specific to a faculty and study, while others are purely based on academic excellence.
For more info, make sure to check out their website. 
What's the Teaching Format?
The details about WSU Medicine are still a little hush hush because the program hasn't officially started. Based on previous similar courses though, it can be safely assumed that students will be studying under an essentially full-time load (Monday – Friday), split between lectures, tutorials and practical placements.

The course will have two academic sessions per year, though these will most likely follow a slightly different schedule to the majority of other courses at the university.
Lectures 
Lectures will be used to introduce the theoretical content and the whole cohort will be in these theatres meaning there will be 100 people present. These classes are not practical and not interactive because they are purely used to introduce the theory that you will need to learn to apply in the practical components.
Tutorials 
Tutorials will be where you are able to interact on a more intimate level with the theoretical content. They will probably be a little more intimate with at most 30 other students present.
You'll most likely be given preparation questions during the lectures to go over during the tutorial and you'll be expected to answer the problems on your own before attending the tutorial. This is where you'll have the opportunity to ask questions to the teacher and interact with your peers about the content. 
Pracs
Pracs are split between community visits, hospital-based sessions and workshops. This means that there will be a mix of sessions established in a real-life setting (at a hospital/community visits) and other workshop sessions used to simulate real life scenarios with the help of a teacher.
The content of these classes will largely depend on the focus of the prac (General Medicine, Surgery, Critical Care). As a general rule, this is where students will be learning on the job rather than behind a textbook. 
Skills That You Will Develop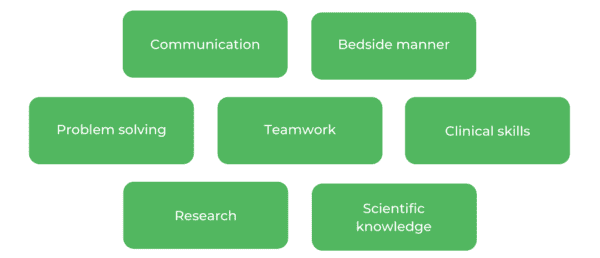 WSU Medicine is designed to give students all the necessary skills they need to succeed in a career as a medical professional. This means that the program develops a whole-range of necessary skills.
Firstly, the theoretical side of the degree will develop students' scientific knowledge — they will establish skills in pharmacology, pathology, anatomy, biochemistry and more. These will also hone the students' research abilities, especially in conjunction with their scholarly project.
The program will also train students to be effective clinical workers. The prac classes and placements will develop much needed clinical skills, including how to conduct oneself with a patient.
The practical component will also improve upon students' soft skills. These soft skills will ensure that students are able to effectively communicate while working in a team and to solve problems in high-pressure scenarios.
What's the Faculty and Culture like?
Western Sydney University hosts a dynamic and culturally rich community. 
The Medical faculty offers a similar experience for its students. There are loads of social and professional development events funded by the faculty, as well as the state-of-the-art facilities that are available at the campus. 
What about societies?
Western Sydney Medical Society (WSMS) is the student-run entity that specialises in making sure that students are excelling socially, professionally and academically. 
The Society is closely linked with the Western Sydney School of Medicine (SoM). Their close relationship provides benefits, including free access to numerous facilities, like the MedSoc storage room.
The SoM also provides funds to the WSMS so they can organise events such as: Medcamp, Twilight Concert, Electives Night, Careers Night, Blue Party, Red Party, Sports Night and the Debating Series. Joining WSMS is definitely a must-do — it's a great way to meet new people and it definitely levels up your experience at the university. 
For more information make sure to check out their Facebook page here!
Interested in more resources on studying Medicine?
Choosing where to study Medicine obviously requires a lot of thought, considering you'll be spending a lengthy period of time trying to get qualified! We want to make that easier for you, so here are some of the other medical degree in Australia on offer:
Curious to know what it takes to get into Medicine? Have a read of our 99+ ATAR Scorer Guide here!
---
Cody Williams is a Content Writer at Art of Smart Education. While Cody studied a Bachelor of Arts in International Relations and French Studies at UNSW, he quickly realised that his dream job would have him sit happily behind a keyboard. Cody's digital writing career started with an internship at Bauer Media where he was writing for ELLE and Harper's BAZAAR's online publications. Once he had a taste for writing he never looked back, moving to Brisbane soon later to work as a Producer for Channel Nine Queensland. After a year in television media, he dusted off his online writing shoes so he could put them to good use, stamping out some scorching-hot career and educational resources at AOS.