Studying HSC English? Need to do an in-depth analysis of 'Billy Elliot' to craft a Band 6 worthy essay for Texts and Human Experiences?
Well, you've come to the right place!
We're going to walk you through the key ideas in Billy Elliot, as well as give you a step-by-step of how to analyse a piece of text from Billy Elliot.
PLUS we'll provide you with a sample analysis table (also called a TEE table) and a sample Band 6 paragraph for Billy Elliot.
So, what are you waiting for? It's time to ace your analysis of Billy Elliot — let's go!
What is Billy Elliot about?
Billy Elliot is a bildungsroman story about a young boy living in Northern England who wants to become a dancer. He faces significant adversity due to the hyper-masculine attitudes of his society.
His father tells him "lads do football, or boxin', or wrestlin', not friggin ballet." Despite this, Billy's determination allows him to overcome the prejudices of his society and pursue his dreams.
Context of Billy Elliot
The story of Billy Elliot is set against the backdrop of the 1984 miners' strike in England. In an attempt to boost the economy, Margaret Thatcher shut down a number of collieries and in response trade unions fought back, going on strike.
This meant that almost all coal miners from South Wales, Yorkshire, Scotland, North East England and Kent stopped working, and picketed to stop other coal miners from going to work.
Those who did still choose to work in the mines were known as "scabs." The strike left many families very poor, as they had no income, which is the situation Billy's family finds themselves in during the film. There was a long war between the trade unions and Margaret Thatcher, who did all she could to quell their power.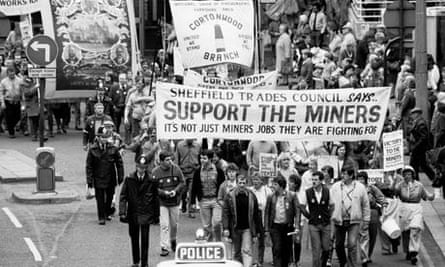 On the 3 March 1985 the NUM's national executive voted 98-91 in favour of an organised return to work. It was a bitter failure for the Miners, and also for organised industrial action, which would come to suffer further during the Thatcher years.
Key Ideas in Billy Elliot
Some of the key ideas which will help with your analysis of Billy Elliot include:
Gender expectations
Rebellion
Determination
The power of art
Family
Loss
Poverty
Remember that when we are writing about ideas in a text, we always need to go beyond a mere theme. Instead of writing a paragraph about "Family", you should make an argument.
How Billy Elliot Links to Texts and Human Experiences
Link #1: Anomalies, paradoxes and inconsistencies in human behaviour and motivations.
Billy Elliot himself is an anomaly as he goes against social expectations by pursuing ballet. However, his struggle to realise his dream demonstrates human inconsistency.
Billy does not consistently defy social conventions; in one scene, he hesitates to embrace dance by openly — and hypocritically — asking a friend, "What boys do ballet?" and collectively referring to dancers as "Poofs!"
Jackie (Billy's father), also reveals the inconsistencies and paradoxes of human behaviour. He initially gives everything up for the miners' strike and punishes his son for his love of ballet. However, ultimately he breaks his strike and supports Billy's dream, motivated by the love for his son.
Link #2: Individual and Collective human experiences
In the film, Billy's individual pursuit of dancing contrasts against the collective experience of strict gender roles and toxic masculinity.
It is also useful to consider how Billy's individual experience of rebelling against his society is somewhat similar to the collective experience of the strike rebellion. Perhaps these similarities are what allow Billy and his society to understand each other at the end of the film. 
Now that you know how Billy Elliot links to the module, learn more about the Common Module: Texts and Human Experiences here!
How to Analyse Billy Elliot in 3 Steps
Before we start writing analysis, we need to look at our two rules.
The first rule is "link the technique to the idea."
This means when you are doing your analysis, you are not merely labelling a technique, but you are showing how its effect is relevant to your overall idea. It is more important that you link your technique to the idea, than linking the quote to the idea!
The second rule is "say something new!"
Weak essays often tend to repeat the exact same idea three times within a paragraph. To achieve a band 6, you should make sure each point says something new and builds up an argument, rather than just repeating the previous point.
Before we get into our analysis, we need an idea, so we have something to link our techniques to! Our idea is: Despite being set in a society which stifles artistic pursuits, Billy Elliot suggests that art has the power to liberate individuals.
Step 1: Choose your example(s)
For our first Billy Elliot example for our analysis, we've chosen to compare two moments from the beginning of the film.
Firstly, the moment when Billy is jumping on his bed, and secondly, the moment when Billy is making breakfast for his grandma in the kitchen.
Remember that comparison between multiple moments in your text provides a great opportunity to do some deep analysis of your text.
Step 2: Identify techniques(s)
For these examples, we are going to use the technique of contrast.
The great thing about using contrast as a technique, is it means we can use 3 techniques in one piece of analysis as there is an extra technique on each side of the contrast.
For our examples we have a long shot for the first part of the contrast and Mis en scène for the second part of the contrast.
Step 3: Carry out your analysis 
Remember that your analysis is all about analysing the techniques, not the example itself. We have written:
In the opening scene of the film, Billy is jumping on his bed — a prototype of his later dancing. The long shot set against the unrealistically vast backdrop of his wallpaper emphasises the surreal nature of this experience. In contrast, the overcrowded mis en scène of Billy's kitchen elucidates the realities of his life: his poverty and his responsibility for his sick grandma.
This analysis has not been written with a specific question in mind, but make sure every time you write analysis it is linking to the question!
Organise your analysis
The way we recommend organising your analysis is through a TEE table. The TEE in TEE table stands for Technique, Example and Effect.
They're a great tool you can use to analyse your text. All you have to do is include your pieces of evidence under 'example' then identify the technique in the 'technique' column and carry out your analysis like below:
If you're analysing a few themes, it's a good idea to have a separate TEE table per theme. For example, for Billy Elliot you may want to keep all your pieces of evidence that relate to family in one table.
For more info on what a TEE table is and how to use one to boost your analysis of an HSC text, check out this article here!
Sample Band 6 Paragraph and Analysed Examples
We've analysed another two examples using TEE tables that relate to the theme of individuality in Billy Elliot that you can access below!
We've also got a sample Band 6 paragraph that you can read over in our downloadable guide below!
Looking for some extra help with HSC English for your Billy Elliot analysis?
We have an incredible team of HSC English tutors and mentors who are new HSC syllabus experts!
We can help you master your HSC English text and ace your upcoming HSC English assessments with personalised lessons conducted one-on-one in your home or at our state of the art campus in Hornsby!
We've supported over 5,000 students over the last 10 years, and on average our students score mark improvements of over 19%!
To find out more and get started with an inspirational HSC English tutor and mentor, get in touch today or give us a ring on 1300 267 888!
---
Brooklyn Arnot has a Bachelor of Arts majoring in English Literature with Honours at the University of Sydney. She scored an HD average and has even received the Dean's award for excellence! Brooklyn teaches our English classes at Art of Smart and has over 5 years of experience supporting Year 11 and 12 students throughout their HSC. She's also a new Syllabus expert and studied 4U English in high school.