Building yourself up to study a Bachelor of Architectural Studies at UNSW?
Like the budding Architect you are, you probably want to draw a plan before you start any new project. The same goes for figuring where and what you're going to study at uni.
Before you can create one though, you'll probably need some information about the program. That's where we come in! 
Core units, entry requirements, teaching format and more. Everything you need to know, below – check it out!
What is a Bachelor of Architectural Studies at UNSW?
Picture yourself walking the streets of Sydney admiring the stunning buildings as they pass you by. You think to yourself, "I wonder what went into having these built?" The answer lies behind this degree. 
The truth of it is, there wouldn't be any constructions to admire without architects, and in Sydney, those very buildings may have been built by a graduate of UNSW architecture. 
A Bachelor of Architectural Studies at UNSW is the first step to this sought-after career. It's definitely not the only step, but it's probably the most important.
Basically, this degree will provide you with all the necessary academic skills in the theory and practice of architecture. Design strategies, construction and architectural technologies—this undergraduate program contains all the foundational aspects to a career in architecture.
Did you know that UNSW is one of the top schools of Architecture in Australia? Learn more here!
Honours
Taking on an honours year is an option but it's not compulsory. In order to get into the Honours program, you'll need to maintain a WAM (UNSW's grade point average) of 65%. 
The Honours program goes for one year and it will hone your research skills. You'll spend the year researching a topic and writing a big thesis about it.
After the program, you can continue on with research by going on to a PhD. You can also head on to more practical study after your honours by doing the standard Master of Architecture.
Where will this degree take me?
A little precursor here — foundational is a keyword for this program. Unfortunately, this Bachelor degree will not be quite enough to become a fully-fledged architect.
Don't get us wrong, it's still very necessary, it's just that you'll also need to complete a Masters program in order to gain accreditation and be officially registered as an architect. This doesn't mean that you have to become registered.
When you finish up the Bachelor's you'll have the official status of 'architectural designer'. The program is diverse and develops a range of skills that don't necessarily only relate to architecture.
Some people decide to leave it with the Bachelor's and go onto other things. You could become a film production designer, interior/spatial designer, project manager or even a marketing executive. 
Career Paths as an Architect
If you do want to plan and create spaces, buildings, and cities, you will need to do your Master's degree. Once you've got that under your belt you could work as a:
Consulting architect in private practice

Specialist architect in areas such as heritage

Building scientist

Environmental consultant

Architect within multidisciplinary design practices

Roles within large commercial architectural firms

Architectural critic, academic or researcher
It's also important to point out that UNSW Architecture scores #33 in Architectural studies for the whole world! It goes without saying that this level of prestige will definitely help secure a job in the future even if it isn't in Architecture. 
Core Units and Majors
This may come as a surprise but not every degree comes with a set of majors. A Bachelor of Architectural Studies at UNSW is one of those degrees.
Although, what this program lacks in major options, it makes up for by exposing students to a range of subjects within the Built Environment faculty. Plus, you won't have to stress about choosing a major later on!
Without a major option, you're probably wondering how the degree is structured, right? Well, it's primarily built up of core units, design studios and interdisciplinary Built Environment electives.
What are the Core Units?
The core units dissect the academic side of architecture and are designed to give context to the practice and to introduce core tools and theories. It goes without saying that these units are absolutely fundamental — they are, however, less practical than the design studio classes.
Some of these core courses may discuss practical aspects of architecture, such as investigating building materials, structural qualities and the conventions of construction. You could also learn about architectural technologies and science during these sessions, which are generally explored through case studies.
Alternatively, you will also have to take courses that deal with a more critical side of architecture, where you'll dive into the history of architecture and architectural theory. Here's an idea of some of the core courses:
Construction and Structures

Communication in the Built Environment 

Fabrication Fundamentals 

Architectural History and Theory 

Building Information Modelling
The rest of the core units can be found in the course outline here!
What are the design studios?
There are six design studio courses throughout the degree and they take place twice a year throughout the program. Design studios give students a chance to put theory into practice and you'll be working with both digital and physical design technologies to produce your own projects.
Each session will have a different focus, eliciting architectural knowledge that students should have developed throughout the course. The focus could be architectural design and space, or it could be more contrived, getting students to design built spaces in Sydney with indigenous and industrial heritage.
A little heads up, the design studios will really throw you in the deep end — most lecturers and tutors will not explain how to use the design tools or even how to cut cardboard, as these are the skills you'll need to develop on the job and with the help of other students. This is why it's always a good idea to ask your mates for help when you need it — you might find yourself learning more from them than anyone else.
Passing each studio is compulsory. Students are unable to progress to the next studio if they haven't passed the one before it (so make sure you don't slack off with these ones).
How about the Built Environment Electives?
These are electives provided by different disciplines within the faculty. This is a great chance to even further broaden your scope for career paths by picking up new skills. 
There are heaps of different study options within the faculty. Common streams of study are graphic design and business start up courses, but the choice is yours!
Here's an idea of some of the courses you could take:
Sustainable Design Thinking 

Architectural Photography

Graphic Design for The Built Environment 

International Planning 

Cinematic Space
Are there internships built into the course?
While completing an internship is not compulsory to complete the course, UNSW Built Environment (BE) does offer professional opportunities for Architecture Students. 
The Elective BE Professional Placement (BENV6800) can be taken as an elective for UNSW Architecture students and allows them to undertake an internship. More on the program can be found here!
How to Get into a Bachelor of Architectural Studies at UNSW
The traditional path for entry is through obtaining an ATAR of 95. This score will give you guaranteed entry into the program.
It isn't, however, the only way to get a seat at the table. The Built Environment Faculty has heaps of alternative entry schemes that help people get in with commitments that may have prevented them from getting a high ATAR. 
Alternate Pathways
There's an Elite Athlete's scheme, entry through portfolio submission, and the option to transfer internally (from a different UNSW program) or externally (from a different university). 
There are heaps more entry schemes, which can be found on the faculty's website, so don't stress if your ATAR isn't looking too high!
Are there any prerequisite subjects?
Getting into the program is hard enough already, so being loaded up with prerequisite subjects would definitely not be fun. Luckily for you, there aren't any!
Though it definitely wouldn't hurt to take up some Art subjects so you can get used to working with physical and digital design tools. HSC Maths and Physics also couldn't hurt. 
How about scholarships?
UNSW offers a variety of scholarships specific to each year and field of study. A list of those scholarships can be found here!
What's the Teaching Format?
Sorry to be the bearer of bad news, but UNSW officially transitioned to Trimesters in 2019. What does this mean for you?
Well it means slightly shorter holidays than a normal semester system but the flexibility to accelerate your degree. It also means that you'll be studying 3 subjects instead of 4 during each academic session.
Class Structure
UNSW Architecture courses are built up of lectures and tutorials/studios.
Generally lectures will go for 2 hours, tutorials for 1-2 hours and studios for 3-5 hours. This basically means that you'll never have more than 15 contact hours per week. 
Something to keep in mind though is that a Bachelor of Architectural Studies at UNSW is highly autonomous — this means that you'll be expected to do most of your hours in your own time. While 15 hours may not seem like much, you'll definitely still be busy keeping up with your projects when you're not in class.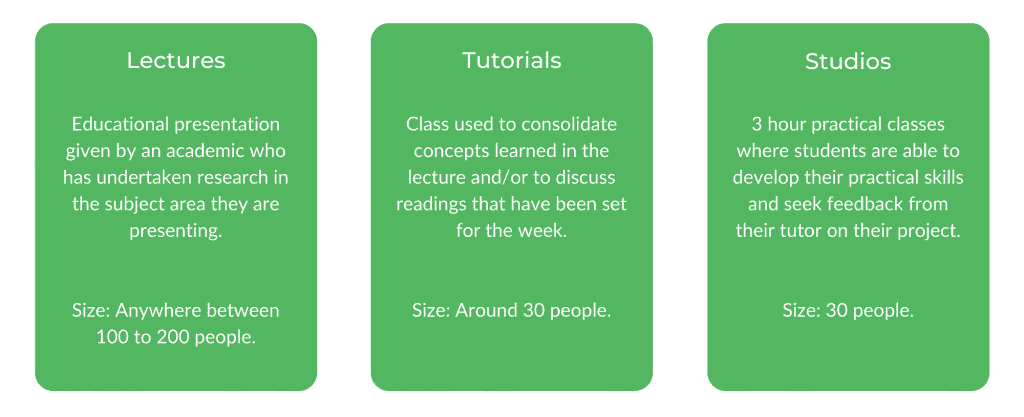 Lectures 
These classes are where you'll be introduced to all of the course content, but because Architecture is not a huge cohort, there will most likely only be one lecture stream. This means that everyone will be in one class, totalling around 200 people. 
During the lecture you'll be listening to the lecturer and taking notes. There won't really be any interactive discussion about the content, but that's where the tutorials come in.
Tutorials
Tutorials (or tutes as you'll come to call them) are much more intimate than the lectures as there'll probably only be 30 other students in the class. You'll only be doing tutorials in the academic core courses (as well as some of the electives, but not in the design studios). 
These classes are when you can actually chat with your teacher and have a more hands-on learning approach with the course content. The teacher will go over any of the case studies that were introduced in the lecture, and they'll encourage everyone to critically engage with them. 
Studios 
Studios are only a part of the design studio courses and they're also smaller than lectures with a class size of roughly 30. These classes are where you'll be able to discuss the progress of your project.
Most of the 3 hours will be spent autonomously working on your project while you wait for your tutor to come and talk to you. The tutor will give you advice on how you could improve on your project and they might point you in a better direction.
Assessments 
The style of assessments will depend on the type of class that you are doing — for the academic classes, you'll mostly be doing essays. There is also the possibility of presentations, but the majority of the assessments will be essay-based. 
During the design studio classes, your assessments will revolve around your project. You might start with a site analysis worth 20%, a proposal worth 30% and a final proposal worth 50%.
Skills That You Develop

While your main goal from studying this degree is probably to obtain design skills, you'll find that you'll learn much more.
Of course design is a huge part of the program and those skills will certainly not be lacking by the end of the program. There is, however, a big focus on your ability to think critically, as well as your ability to present a project and really sell it. 
You might think that being a good designer is the most important part of being an architect, but it's only one half of it — no matter how good the product is that you produce, if you can't sell it you won't get anywhere. UNSW Architecture pushes its students to develop these abilities during the design studios. 
In some extreme cases, an ability to sell something is even more important than the project itself: there has allegedly even been an incident of a student getting a High Distinction by presenting a grape (yep, as in the fruit). You might find these skills to be the most important learning curve for professional life.
What's the Faculty and Culture like?
The Built Environment comprises highly regarded architects that are experts in the field — a lot of the teachers have their own agencies and teach on the side. This means that you'll get a real taste for the field, as well as expert academic guidance.
UNSW Architecture's cohort is quite small, which will give you the distinct feeling of camaraderie while you struggle through the program together. You'll be progressing through the program with the same people so you'll definitely end up being quite close.
One problem is that the closeness can encourage competition. But who doesn't love a little friendly rivalry? It definitely makes you work harder.
Interested in the pros and cons of this degree? Check out our article here!
UNSW Architecture Society
UNSW's Architecture Society is the student representative group that provides social, academic and professional support for students of Architecture.
Because UNSW doesn't have a shared studio space, the Architecture Society strives to bridge the gap between the different years in the program. They organise pub crawls, barbecues and other social events outside of uni to create a strong social network in the cohort.
The Architecture Society also organises meet and greets with graduates of the program. They aim to bring alumni who have gone on to pursue their Masters, and others who chose different paths—they recently invited a graduate who is now a lecturer from NIDA, specialising in Set Design. 
The society also organises workshop events that teach students how to use design technologies and other points that are not discussed in lectures. The Architecture Society is definitely a must-join for any students of the program.
SONA
UNSW also offers Architecture students the opportunity to join SONA (Student Organised Network for Architecture). It is the national-student membership body of the Australian Institute of Architects. 
Each university has a representative that is given a budget to organise localised events at the uni. SONA itself will also hold bigger national events.
By becoming a member, you'll open yourself up to loads of networks, forums, events and competitions. It's a great opportunity to expand your network outside of the university.
BESA
BESA is the Built Environment Student Association. They are the biggest student group within the Built Environment faculty — in other words they have the biggest budget and influence on the faculty. 
BESA has a representative from each area of the Built Environment faculty (Landscape, Interior, Industrial Design etc.), which means they cater to the student body on a faculty level, rather than by subject. The association puts together all of the huge events like the end of year ball and other industry talks.
It also organises the peer mentoring program. Peer mentoring is a great way to learn about the university from an older student and get some helpful study tips about your course.
For more info about BESA make sure to check out their Facebook!
---
Cody Williams is a Content Writer at Art of Smart Education. While Cody studied a Bachelor of Arts in International Relations and French Studies at UNSW, he quickly realised that his dream job would have him sit happily behind a keyboard. Cody's digital writing career started with an internship at Bauer Media where he was writing for ELLE and Harper's BAZAAR's online publications. Once he had a taste for writing he never looked back, moving to Brisbane soon later to work as a Producer for Channel Nine Queensland. After a year in television media, he dusted off his online writing shoes so he could put them to good use, stamping out some scorching-hot career and educational resources at AOS.