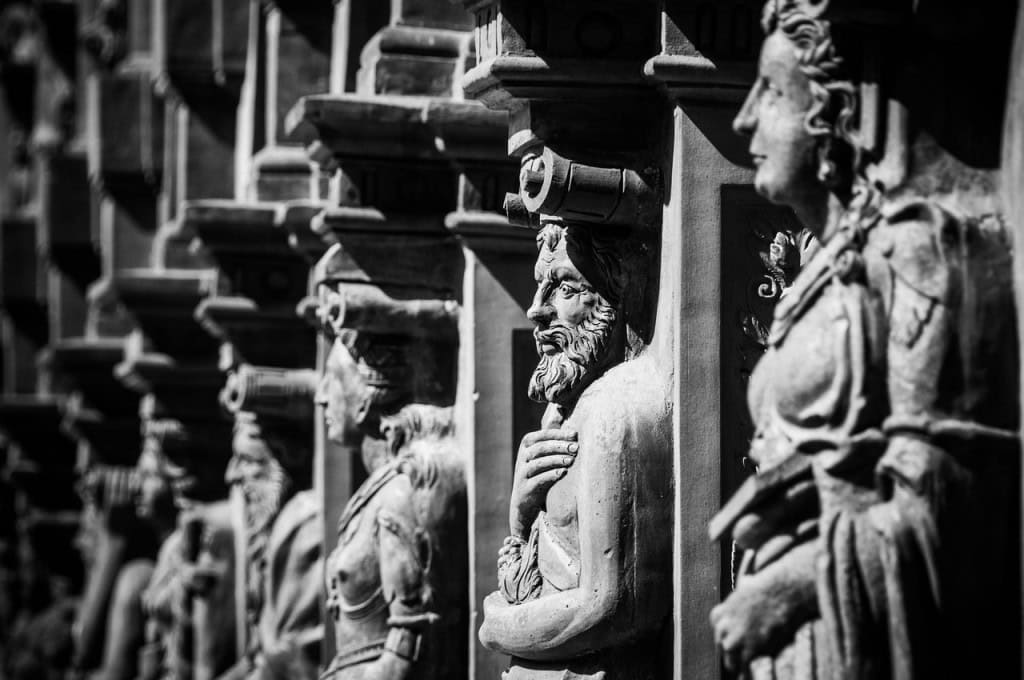 So, you've read about What It's Like Studying a Bachelor of Arts at Macquarie University and now you're searching for an in-depth, personal rundown of the course? Well, you've come to the perfect place.
We got to chat to Annie, a third year Bachelor of Arts and Bachelor of Laws student at Macquarie Uni, who had all the answers to our questions. 
Annie gave us the lowdown, the ups and downs, the pros and the cons and everything there is to know about the Bachelor of Arts course at Macquarie Uni. 
Let's begin! 
Why should you study a Bachelor of Arts at Macquarie University?
A Bachelor of Arts at Macquarie Uni is one of those degrees that can be whatever you want it to be! It fits into the broad realm of humanities and social sciences and it's perfect for students that want a course that's flexible, broad and has endless possibilities. 
At Macquarie, you'll have the opportunity to pick from 50 different majors, meaning you'll be able to tailor the course to your own interests and aspirations. It's a course that teaches the roles and functions of identity, societies, communication and community. 

While it is a broad and far-reaching degree, you'll be given ample opportunities to develop some employable and highly sought after skills like critical thinking, advanced analysis, creativity and intercultural awareness. 
You can even choose to study 2 majors if you want to widen your knowledge or maybe just because it's too tricky picking a single subject to specialise in! Some of the majors that Macquarie offers Arts students include:
Modern history 

Ancient history 

Social justice 

Indigenous studies 

Music studies 

German studies 

International relations

English 

Criminology

Geography

Politics 

Media, culture and communications

Creative writing
You can think of any discipline and we'll bet that Macquarie offers it. 
Studying a Bachelor of Arts is pretty much one of the few ways that students can study more humanities-based subjects because they're often not offered as sole degrees.  
You can take a deeper look at the Bachelor of Arts at Macquarie here! 
Top 3 Pros of an Arts degree
#1: Great resources and facilities 
One of the great things about Macquarie Uni, according to Annie, are the valuable resources and facilities. "The facilities available reflect the value that Macquarie places upon practical experience and innovation," Annie said. 
Alongside their extensive physical and online library collection which includes quiet study areas, access to computers, printers and copiers, presentation pods and cool robotic cranes that help find the book you're searching for, Macquarie also encourages students to use facilities that are especially designed for arts and social sciences students!
"There are lots of museums, an art gallery, Futures Lab and the Faculty of Arts Precinct. The Media Hub has the largest green screen studio in Australia and I got to use it for a journalism assignment very early in my degree," Annie told us. 
#2: Industry experience
A distinct feature of Macquarie Uni's Bachelor of Arts course is their PACE initiative. Macquarie's Professional and Community Engagement (PACE) program is offered to all undergrad students and provides them with the opportunity to engage and participate with local, regional and international organisations. 
Annie explained, "Inbuilt industry experience through the PACE Program is another benefit! It provides meaningful exposure and career support, enabling lifelong connections with internship and placement providers." 
Macquarie's PACE program is a great way for students to increase academic credit, enhance networks and improve employability. 
"I really enjoyed my internship experience and it gave me degree credit points! Macquarie is based in the Macquarie Park Business District and we are surrounded with opportunities that I am going to consider in the future," Annie said. 
You can take a deeper look at Macquarie's PACE units for Arts students here! 
#3: Clubs and societies 
"Student societies provide lots of study support, fun social activities and ways to network with people that I really look up to in the industries that I'm interested in. Whether it's a faculty society or a novelty group, there is something for everyone and I love to be involved," Annie told us. 
With over 140 student-led clubs to choose from, you're bound to find a society that you fit into. Even if there's not one that peaks your interest, you can just make your own! 
Maybe you'd like to join one of the many political and social justice clubs, a professional and faculty society, a sport association or maybe you'd like to experiment with some of the special interest groups like the Kanye West Appreciation Society, the Queer Collective, the Sustainability Squad or even the Debating Society! 
There's something for everyone. Check them all out here! 
Top 3 Cons of an Arts degree
#1: Not many chances to specialise 
"It is a generalist degree with lots of scope to explore many areas of interest as a minor or as elective units, which can be confusing because I love so many disciplines," Annie told us. 
As with a lot of the cons we include in these articles, they'll always be dependent on you as a student. The huge variety of subjects and opportunities that Macquarie offers their Arts students will be great for some and a bit overwhelming for others. 
If you're someone that loves learning a little about everything and has a hard time specialising, then this degree would be perfect for you. Although as Annie said, the scope of options can seem a little daunting since your options are almost endless. 
#2: Confusing curriculum changes 
Like a lot of us, Annie had a difficult time trying to figure out all the new changes to studying in 2020. Everything seems to be settling down for now so you'll probably have the option to choose to take your classes face-to-face or online depending on your situation. 
"The confusion around changes to the 2020 curriculum and the availability of courses, as well as understanding the alterations to majors was a significant adjustment but it was a process that was clarified through reading my study plan," Annie said. 
If you're not 100% sure about the times, availability or teaching methods of classes that you're taking, try rereading your study plan to get your head around everything. It's been a weird year so if you're still unsure, there will be plenty of staff and tutors willing to help to make sure that everyone's on the same page. 
#3: Unsurety of Arts' future
"At a broader level, the state of arts and humanities education is not giving me a positive outlook on the viability of offering the diversity and range of courses in the future," Annie said. 
With the increased cost of arts and humanities degrees and Australian universities' struggle to deal with the impact of minimal international students, Annie and a lot of other arts students are worried about the uncertain future of humanities courses in Australia. 
Annie explained, "A lot of students are concerned about the impact this could have on accessing academic support and retaining our valued teaching staff." 
Any regrets? 
Despite the cons that Annie mentioned above, she is extremely pleased that she chose to pursue a Bachelor of Arts at Macquarie Uni. 
"I have no regrets about my degree and would recommend it to someone looking to establish excellent career opportunities and connections!" Annie told us. 
We can hope that the Arts in Australia will become a more valued and funded discipline in the future. It's a great degree that teaches a wide range of subjects that are beneficial to so many careers and professions. 
What do you wish you had known before starting a Bachelor of Arts at Macquarie University? 
#1: Utilise weekly study sessions 
Annie has already mentioned the beneficial resources and facilities that Macquarie has on offer. However, she also told us how easy it is to not use them to your full advantage and in retrospect, Annie wished she had utilised them a bit more. 
"The main thing I would've liked to learn before starting this degree is how to access study support and to take advantage of Peer Assisted Learning and Peer Assisted Study Sessions for individual units. They are insightful and have positively impacted upon my grades," Annie said. 
The Peer Assisted and Peer Assisted Study Sessions are weekly sessions run by Macquarie Uni by older students to help first and second years deepen their understanding of particular units and subjects. 
It's a great resource and you can take a look for yourself here! 
#2: Online resources 
Annie also informed us of the importance of the online resources that Macquarie students have access to. Specifically, Annie told us about Studiosity:
"Students at Macquarie get free access to Studiosity! It is a useful resource for gaining access to essay and assessment feedback. This is complemented by services like WriteWISE, where student leaders who have achieved high marks provide guidance on improving my academic writing skills."
What makes this degree different from the ones offered at other universities? 
#1: The sense of community
According to Annie, as a Bachelor of Arts student, you can be confident that you'll be surrounded by friendly, creative and passionate students.
Annie told us, "I feel that there is a strong sense of community and feeling like home at Macquarie, with a lot of opportunities to connect with like-minded people through student societies and university-provided initiatives."
"There is tailored and targeted support for different things, from being able to access financial assistance through the Student Success Support Package to career workshops offered by the Careers & Employment Service," she added. 
As Annie said, Macquarie Uni offers emotional, financial and academic support to all potential students. Maybe you need a hand navigating accessibility services, searching for academic advice, looking for Indigenous student support or wanting some help career-wise, Macquarie is there to help. 
You can browse Macquarie's student support options right here!
#2: Global Leadership Program 
"The Macquarie University Global Leadership Program (GLP) provides international and cross-cultural engagement with the world around me, practical events to attend and learn from the numerous keynote speakers and experiences that I would never miss!" Annie said. 
Macquarie's Global Leadership Program is an initiative that students can undertake alongside their degree. You'll have the option to attend helpful workshops and practical lessons that fit into your academic timetable. 
What inspired you to choose a Bachelor of Arts at Macquarie University?
Since Annie is pursuing a double degree, she has been able to study a Bachelor of Arts and Bachelor of Laws simultaneously. This is definitely not a requirement but an Arts degree is a great option for students who want to broaden their knowledge and graduate with 2 degrees! However, it will take a lot more work. 
Annie told us that she chose to study a Bachelor of Arts because from the very beginning, she felt welcomed and supported. 
"I feel that Macquarie has a great collegiate culture and supportive network of students who care about succeeding together. As a current student, I am lucky that I have benefited from the mentorship of older students at Macquarie from day one," Annie said. 
She added, "I remember going to the Faculty of Arts Welcome during Orientation Week 2018, after registering for the Macquarie Buddies Program! So many great friends were made that day, that I still catch up with regularly now."
What are the possible career paths?
Since the principal skills that you'll develop from an arts will be heavily dependent upon the major you choose, your career could really be anywhere. A Bachelor of Arts at Macquarie will prep you for a wide scope of different career paths that will differ depending on the kinds of subjects that you study. 
Some of these may include:
Historian 

Writer 

Journalism 

Criminologist 

Archivist 

Arts manager 

Communications officer 

Entrepreneur

Radio producer 

Web/game developer 

Television or film producer 

Legal officer 
Or maybe you'd like to commit to some more study and you could really end up anywhere! 
No matter what major you choose, a Bachelor of Arts degree at Macquarie will provide you with important communication, collaboration, cultural awareness and analytical thinking skills that will be valued in almost any position. 
---
Gemma Billington is a Content Writer at Art of Smart and an undergraduate student at the University of Technology Sydney. While studying Journalism and Social and Political Sciences, Gemma enjoys spending her time at the gym or reading about Britain's medieval monarchy – ideally not at the same time. She currently creates and administers social media posts for Central News and writes for the student publication, The Comma. After completing her undergraduate degree, she hopes to study a Masters of Medieval History and is very excited about the prospect!